PD-602 Rugged Digital Radio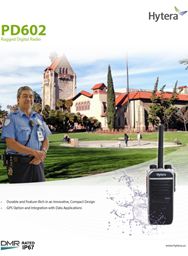 PD-602 Rugged Digital Radio
The Hytera PD602 two-way radio presents a compact, light-weight and ergonomic unit with an attractive and user-friendly design.
Ultra-Wide Band
Hytera PD602 Ultra-wide UHF band, programmable with frequencies from 400MHz to 527MHz.
Waterproof
Rated to IP67 Water Immersion (up to 1 metre, up to 30 minutes) / MIL-STD-810 C/D/E/F/G standards.
Compact & Non-Obtrusive
The Hytera PD602 two-way radio is sure to appeal to meticulous users and those conscious of size and presence. The radio measures a light-weight 260g (when paired with 1500mAh Li-on battery) with dimensions of 115mm x 54mm x 27mm (excluding antenna measurement).
Take Advantage of Digital & Analogue
Dual-mode capable provides for easy migration and scalability. Choose the right time for your organisation or application to move to digital, or, if your requirement dictates – utilize both from one of the most flexible radios available on the market.
Get 2 Channels!*
Operate in digital and get 2 channels! *(DMO True 2-Slot and Psuedo Trunk).
Lone Worker, Man-Down & Emergency*
Upgradable options available on request.
High-Power
Available in UHF (4 Watt) and VHF (5 Watt).