PD-702 Digital Portable Two Way Radio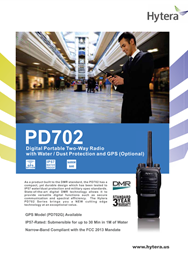 PD-702 Digital Portable Two Way Radio
The Hytera PD702 (non-display version of the PD782 digital two way radio) also features the industry's best warranty - The 5 year Warranty - proof Hytera stands behind their equipment. PD702 is compatible with Motorola's MotoTRBO and the 2 to 1 frequency allocation of TDMA Digital/Analog modes allows for an easier transition from analog to digital. Hytera's digital two way radio integrates particularity well with those who use Motorola equipment.
The FCC's Narrow Band mandate is quickly approaching and the PD702 meets the 12.5kHz requirement and also meets the 6.25kHz potential future very narrow band requirement.
Built to the DMR standard the PD702/702G (PD702G is the GPS Model) has an ergonomical design, and is submersible with an IP57 rating. This non display model of the Hytera DMR portable radio is usable on both digital and legacy analog radio systems. This radio also features : Versatile voice calls, a vibrator, and is already narrowband compliant.
Hytera PD702 Digital Solution is ideal for communications: Security, Construction, Property Management, Hospitality, Hotel Management, Manufacturing

General Features
Ergonomic Design
The globally patented industrial design and antenna design ensure convenient operation and remarkable GPS performance.
Reliable Quality
The Hytera PD702 is strictly compliant with MIL-STD-810 C/D/E/F and IP57 standards, ensuring outstanding performance even in harsh environments.
Superior Voice
With the combined application of narrowband codec and digital error-correction technologies,The Hytera PD702 is capable of ensuring you superior voice in noisy environments or at the edge of the coverage area. In addition, the adoption of the AGC technology also optimizes your voice. With a built-in 1W speaker, The Hytera PD702 ensures clear and crisp voice communication.
Durable Battery
Compared with an analog radio, The Hytera PD702 can obtain an extra 40% operation time.
Higher Spectrum Efficiency, Higher Channel Capacity
Benefiting from the TDMA technology, The Hytera PD702 allows twice the channels based on the same spectrum resource. This is a big help to relieve the stress of increasing shortage in spectrum resource.
Dual-slot Pseudo Trunking
With this feature, the free slot can be allocated to a member that needs to communicate, effectively enhancing frequency efficiency and allowing you to communicate timely under emergent situations.
Secure Communication
Besides the intrinsic encryption of the digital technology, The Hytera PD702 provides enhanced encryption capability (such as 256-bit encryption algorithm) and the Scrambler feature (selectable).
Versatile Services
In addition to conventional communication services, The Hytera PD702 features rich data services and selectable functions such as Scan, Emergency, Man Down (optional), High-speed Data Transmission* and Lone Worker*.