Protalk TK-2400VP/3400UP Compact VHF/UHF FM 2-Watt Portable Radios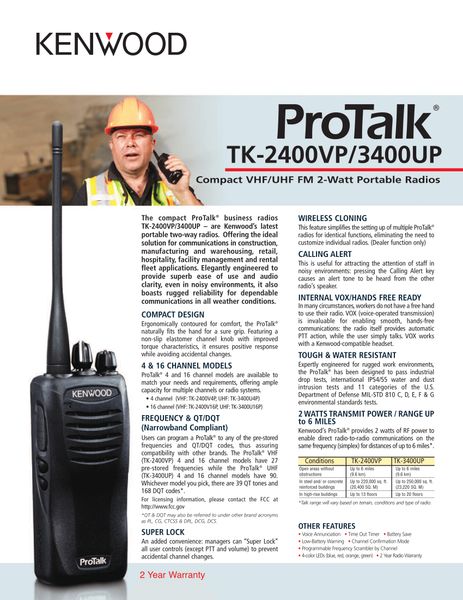 Protalk TK-2400VP/3400UP Compact VHF/UHF FM 2-Watt Portable Radios
The compact ProTalk® business radios
TK-2400VP/3400UP – are Kenwood's latest
portable two-way radios. Offering the ideal
solution for communications in construction,
manufacturing and warehousing, retail,
hospitality, facility management and rental
fleet applications. Elegantly engineered to
provide superb ease of use and audio
clarity, even in noisy environments, it also
boasts rugged reliability for dependable
communications in all weather conditions.
COMPACT DESIGN
Ergonomically contoured for comfort, the ProTalk®
naturally fits the hand for a sure grip. Featuring a
non-slip elastomer channel knob with improved
torque characteristics, it ensures positive response
while avoiding accidental changes.
4 & 16 CHANNEL MODELS
ProTalk® 4 and 16 channel models are available to
match your needs and requirements, offering ample
capacity for multiple channels or radio systems.
• 4 channel (VHF: TK-2400V4P, UHF: TK-3400U4P)
• 16 channel (VHF: TK-2400V16P, UHF: TK-3400U16P)