RD-982 Digital Dual Mode Repeator U-1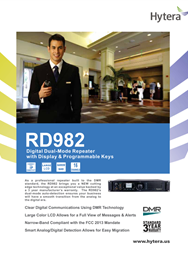 RD-982 Digital Dual Mode Repeator U-1
Hytera has introduced America's most affordable mixed mode DMR (Digital Mobile Radio) repeater especially designed to work with Motorola's MotoTRBO XPR Series mobile and portable radios as well as the Hytera

PD782 portable and MD782 mobile analog/digital radios.
The new RD982 repeater addresses a major shortcoming of the original Motorola XPR8300 repeater which limited functionality to operate in either the analog or digital mode, but not both. This meant that purchasers of the XPR8300 had to leave the station in the analog mode until all radios were converted to digital. The Hytera

RD982 allows analog radios to be phased out as budgets permit with the capability of operating both analog and digital radios simultaneously through the same station.
The RD982 can operate at 25 kHz, 12.5 kHz, and 6.25 kHz to meet current requirements as well as the mandatory narrow band standard which becomes effective on January 1, 2013. With the RD982 running in digital mode, you get 2 simultaneous talk paths per repeater, so you can literally have two repeaters for the price of one!.
The RD982 can accommodate an internal duplexer

plus it is smaller, lighter, more powerful, less expensive than the XPR8300, and it has front panel control with a color LCD display.
Smart Digital-Analog Switch
This repeater supports digital and analog modes. It can smartly select the right one based on the type of received signal, allowing you to enjoy digital delights with ease.
Advanced TDMA Technology
The application of Time Division Multiple Access (TDMA) technology greatly enhances spectrum efficiency, which allows twice the user compared with that of traditional FDMA. Obviously, this can not only save your cost in base station and frequency license, but also relieve the pressure of increasing shortage in spectrum resources.

128-bit Digital Encryption
The advanced 128-bit encryption technology can secure your communication from being eavesdropped.
Outstanding Heat Dissipation
The unique cooling design combining a built-in heat pipe and a temperature-controlled fan ensures quick heat dissipation, enabling the repeater to work normally even with full power.

Handy Management Service
With the management software, you can remotely monitor and diagnose a repeater. In addition, you can either record or play back the audio freely in digital mode.

Innovative LED Design
The innovative LED and the 2.0" HD color display would deliver you the repeater status clearly, as well as a pleasing visual experience.