Ritron Patriot Wireless Intercom / Base Station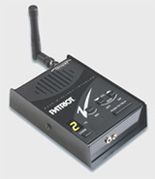 Ritron Patriot Wireless Intercom / Base Station
The Patriot Base Station is the perfect fixed location wireless 2-way communication solution. It is a compact base station specifically designed to stay in one place. It does not invite borrowing and with its rugged metal enclosure the PBS can be mounted permanently so you can be assured that it will be there when you need it.

The PBS is perfect for conventional simplex radio systems, in-plant, campus or community repeater systems, and UHF LTR Trunked radio systems.

These radios are specifically designed for business applications where a small, self-contained fixed radio is required. Since the PBS radio operates on 100 VAC (or with optional 12 VDC adapter), is always ready . There is no dead battery or overcharging to ever worry about.
VHF/UHF Conventional models

• UHF Trunking (LTR or PassPort protocols) version
• 2 Watt Output Conventional models
• Compact size, measures 1.4" X 3.8" X 5.6"
• PC Programmable, 2 Channels/Systems or Groups
• 110 VAC or 12 VDC
• Rugged metal enclosure
• Clear and loud, 1 Watt Audio Output
• Built-in CTCSS and Digital Coded Squelch (PBS-454 only) codes
• Narrow (12.5 kHz) or wide (25 kHz) versions available
• Weather Scan (VHF only) for up-to-the-minute information
• Audio accessories available
• Optional Public Address (PA) modification
• One-year warranty
• Made in the USA