VXD-720 Digital Portable Radio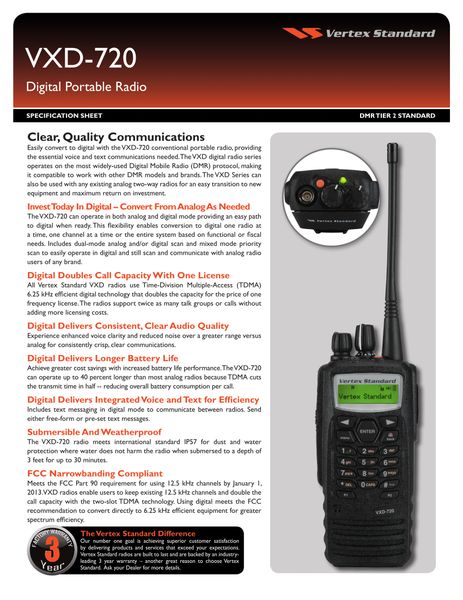 VXD-720 Digital Portable Radio
Clear, Quality Communications
Easily convert to digital with the VXD-720 conventional portable radio, providing the essential voice and text communications needed. The VXD digital radio series operates on the most widely-used Digital Mobile Radio (DMR) protocol, making it compatible to work with other DMR models and brands. The VXD Series can also be used with any existing analog two-way radios for an easy transition to new equipment and maximum return on investment.
Invest Today In Digital – Convert From Analog As Needed
The VXD-720 can operate in both analog and digital mode providing an easy path to digital when ready. This flexibility enables conversion to digital one radio at a time, one channel at a time or the entire system based on functional or fiscal needs. Includes dual-mode analog and/or digital scan and mixed mode priority scan to easily operate in digital and still scan and communicate with analog radio users of any brand.
Digital Doubles Call Capacity With One License
All Vertex Standard VXD radios use Time-Division Multiple-Access (TDMA) 6.25 kHz efficient digital technology that doubles the capacity for the price of one frequency license. The radios support twice as many talk groups or calls without adding more licensing costs.
Digital Delivers Consistent, Clear Audio Quality
Experience enhanced voice clarity and reduced noise over a greater range versus analog for consistently crisp, clear communications.
Digital Delivers Longer Battery Life
Achieve greater cost savings with increased battery life performance. The VXD-720 can operate up to 40 percent longer than most analog radios because TDMA cuts the transmit time in half -- reducing overall battery consumption per call.
Digital Delivers Integrated Voice and Text for Efficiency
Includes text messaging in digital mode to communicate between radios. Send either free-form or pre-set text messages.
Submersible And Weatherproof
The VXD-720 radio meets international standard IP57 for dust and water protection where water does not harm the radio when submersed to a depth of 3 feet for up to 30 minutes.
FCC Narrowbanding Compliant
Meets the FCC Part 90 requirement for using 12.5 kHz channels by January 1, 2013. VXD radios enable users to keep existing 12.5 kHz channels and double the call capacity with the two-slot TDMA technology. Using digital meets the FCC recommendation to convert directly to 6.25 kHz efficient equipment for greater spectrum efficiency.